Settings
This article shows how to configure ez Form Calculator to use Gmail's SMTP server.
You need a Google account in order to use Gmail's SMTP server. You can enter your SMTP credentials in the Global settings > Email section.
Follow these steps:
Set Enable SMTP to Yes
Set Anonymous authentication to No
Enter smtp.gmail.com as the SMTP Host
Enter your Google email address in the SMTP Username
Set the SMTP Port to 587
Set the SMTP Encryption to TLS
Check if these settings are correct on the Help / debug page and try to send a test email. Check the Troubleshooting section if an error shows up.
Example: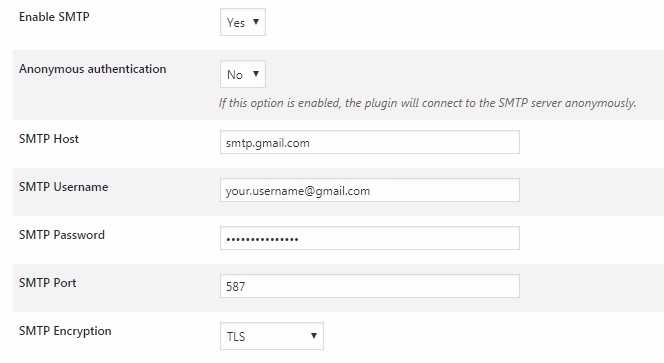 ​
Troubleshooting
If you're unable to send mails, please see the following answers on Stackoverflow. Alternatively, try a different mail service.