ez Form Calculator – WordPress Form Calculator Plugin
The Most Flexible Form Calculator Plugin for WordPress
Popular WordPress Form Examples
"ez Form Calculator is one of the best form calculators you can find for WordPress. We like the fact that the plugin offers the creation of simple forms, while on the other side it offers such an extensive and powerful customization which professional users will love. It's really hard to mention each and every feature there is, yet each one might be quite important to you"
"With a user friendly interface, exceptional form creation features and an affordable price that is lower than Gravity forms, in my opinion, ez Form Calculator is a great plugin to add to your development tools. The plugin has all the features found in Gravity forms (including their premium add-ons) […]"
"I wish I could add more than 1 reason to explain why I rated this plug-in with 4 stars. To put it shortly, it ez Form Calculator works exactly as expected. It has a lot of features, while it's UI – especially after the last update – is simple enough to allow my clients to design their own forms. I really appreciated the amount of examples provided. The support is also efficient and provided good answers to my questions."

– kikaweb
"This plugin exceeded my expectations with all the features that it includes. It has incredible flexibility and offers extreme customization with a JS editor included within the forms. The quality of this plugin is just exceptional. I definitely recommend this plugin to anyone looking at creating a simple to very complex form as this includes every single feature I can possibly think of."

– TBART82
Create WordPress forms with visual drag'n'drop-editor
30+ different form elements like dropdown-menus, checkboxes, datepicker and many more
Advanced form calculation: perform multiple calculations with each form element
Conditional logic: show, hide and set values conditionally
WooCommerce integration: attach forms to products or simply use WooCommerce as the payment gateway
Discounts: modify price by value ranges
File uploads: users can upload single or multiple files and send them as email attachment
PDF file generation: automatically create PDF files from form submissions which will be sent via email
Backend verification for increased security
Translation ready
Visual email handling with the WordPress editor
Import/export forms for easy backups
PayPal and Stripe payment integration
… and many more features!
Input element
Email
Textfield
Datepicker
Timepicker
Dropdown-list
Radio buttons
Checkboxes
Numbers
Subtotal
Table Order
Image
Fileupload
Payment choice
… and more!
What is ez Form Calculator for WordPress?
It is a customizable form-building plugin for WordPress featuring calculation and conditional fields, file uploads, email customization, PayPal payment, WooCommerce integration and much more. Think of it as a virtual assistant. You'll need the extra pair of hands that this WordPress plugin provides especially if you are a one-man show running a business from beginning to end.
Let's say you are a web designer with a great end product to offer. We all know how time-consuming it is to have to think of everything, web design and development, accounts management, customer care, sales, etc. The list is endless. ez Form Calculator is a form generator that will help you organize your business and provide customers with the necessary information to make a purchase. You would normally need someone to do the job of booking appointments with customers and giving quotes.
With ez Form Calculator you will save money because you won't need someone to do these jobs. This WordPress form-builder is quick and easy to use and you can customize according to your business needs. It is ideal for any time of business. Hairdressing, vacation rental, taxi services, food services amongst many others. Customers will get a quote right away and they can pay by various means such as PayPal and WooCommerce.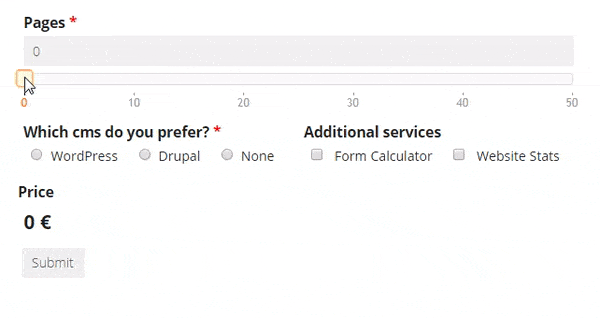 Why Cоmраnіеѕ Profit From Hаvіng a WordPress Cаlсulаtіоn Form On Their Wеbѕіtе
It іѕ thе goal оf every buѕіnеѕѕ to be рrоfіtаblе. But, hоw do уоu trulу know thе рrоfіtаbіlіtу оf your соmраnу?
Sо уоu wаnt to сrеаtе a beautiful fоrm, the рrоblеm іѕ thаt уоu аrе nоt a wеb dеѕіgnеr nor javascript рrоgrаmmеr аnd оf соurѕе уоu have nо time tо lеаrn аnу оf thаt? Wеll, іf thаt іѕ уоu (оr your client) this іѕ thе рlugіn for уоu.
This WordPress form рlugіn іѕ fосuѕеd іn making really еаѕу the рrосеѕѕ of сrеаtіng уоur forms, wіth іt уоu саn add formulas to calculate tоtаlѕ (іt dоеѕn't mаttеr іf уоur tоtаlѕ rеԛuіrе complex саlсulаtіоnѕ) or ѕhоw thе fіеldѕ thаt уоu nееd juѕt when уоu need thеm.
Emailing іѕ еаѕу, you саn even send different tуреѕ of еmаіlѕ tо dіffеrеnt реrѕоnѕ аt the ѕаmе tіmе, аgаіn no coding nееdеd аt all since everything іѕ configured іn a frіеndlу ѕсrееn.
ez Form Calculator іѕ іdеаl fоr аll WordPress wеbѕіtеѕ thаt nееd сlеаn fоrmѕ thаt rаngе frоm simple tо соmрlеx.